Samsung Galaxy Tab S
tablet ¦ RRP £399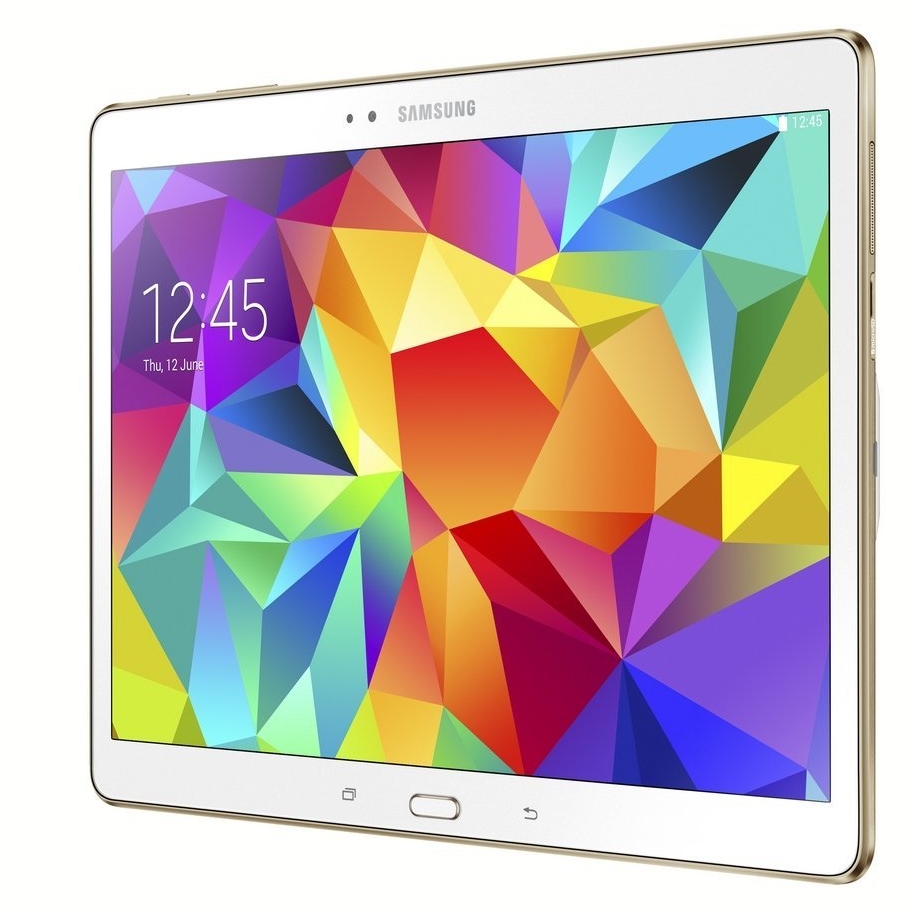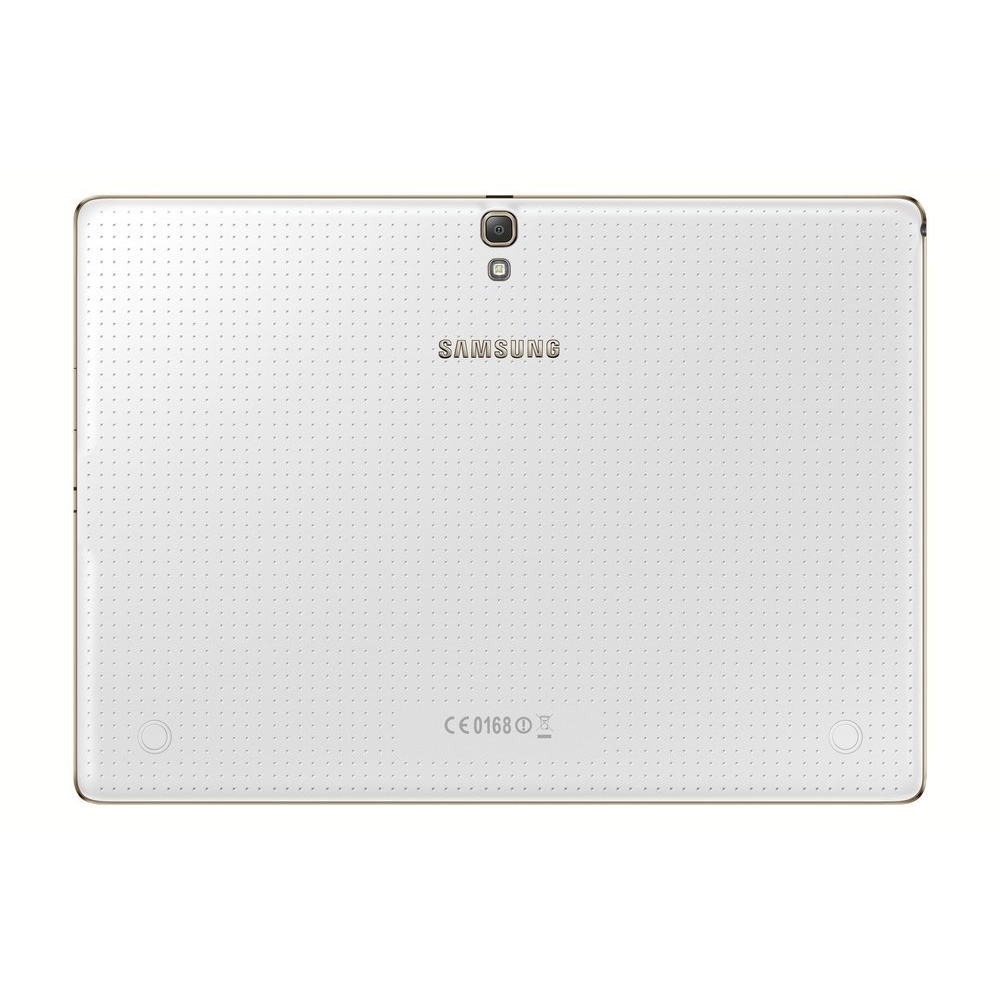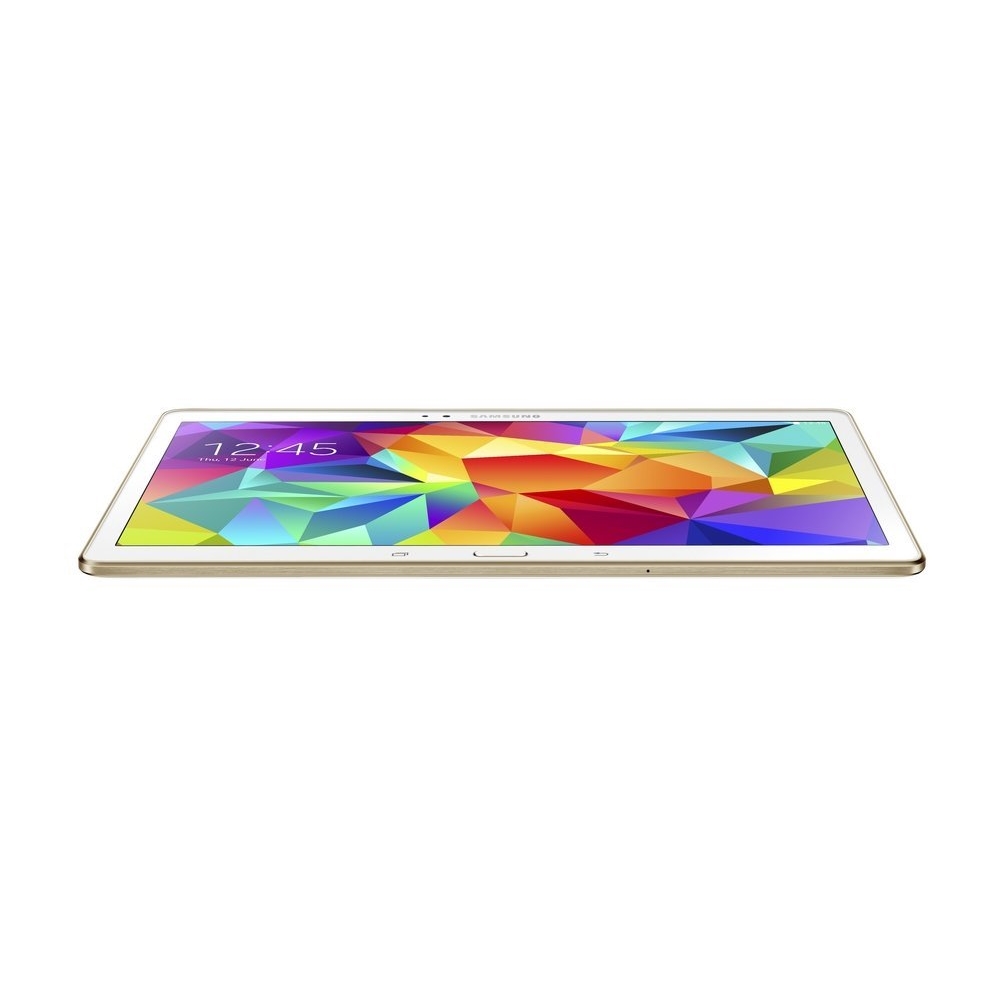 In the market for a new tablet? Good luck with that. With every man, woman, and child wanting a portable screen to smear their greasy paws all over, the once humble tablet is now the gadget that no-one can live without.
To cater for this incredible demand, all kinds of tablets are popping up almost daily. Obviously, as consumers, it's great to have a choice, but how do you go about getting your particular tablet noticed in a crowded market?
Well, it helps if you're the market leader in the Android sector, as Samsung are. So even though their tablets are already flying off of the shelves, it doesn't stop them from making a statement when they release something new.
When they introduced the Galaxy Tab S recently, they decided to make a colourful splash on London's Southbank, when they displayed their Super AMOLED 'Midnight Rainbow'.
If they really wanted to make a splash, it would have been more impressive to see it over the Thames itself, but maybe that was a bit of a stretch, even for Samsung.
It's a pretty PR stunt, but ultimately the Galaxy Tab S manages to impress all on its own.
They say size matters, but we've been quite comfortable with the 7" tablets we've had our hands on. Put something 10.5 inches in your hands however and you soon notice the difference. Well, you would, wouldn't you?
As soon as you power it up it's clear that it's a premium bit of kit you're holding. The AMOLED screen beams out at you in all its Technicolor splendour.
After connecting to the net, we hit the Google Play store. We downloaded the usual suspects – BBC iPlayer, 4OD, Sky Go etc. – and after looking at all of them, we were disappointed with the results. All of these players streamed in standard definition only, so the kind of sharpness the screen could clearly handle wasn't there. This obviously isn't the Tab's fault: it's like driving a McLaren F1 in a packed Lidl car park; you're just not going to get the best out of it.
We then decided to play some games. We downloaded Gameloft's Asphalt 8, a title we admittedly had never played before. Driving games more than most can truly push what's under the bonnet of most tablets, and the Tab S didn't disappoint.
If you're a fan of driving games it's a pick up and play dream. To steer the car you hold the screen as if it were a steering wheel, touch the screen on the left side for braking, the right for nitro, and Bob is your estranged uncle that no-one ever mentions after the 'incident' at the last Christmas dinner.
The tablet claims to have something called an octa-core, which sounds made up to us; it has the ring of a device that James Bond needs to destroy the bad guys in his next adventure. Maybe it is, who knows, but what we do know is that it can cope effortlessly with this processing-hungry game. Not only does it handle speed well, but the colours (particular the neon-lit Tokyo at night course) are as vivid as a vivid thing gets. This octa-thingy, 1.9GHz processing monster and 3GB RAM no doubt have something to do with it.
We then decided to take it out for a day trip for some pleasant sights and fresh air. We wouldn't necessarily consider taking a tablet of this size out and about, as it isn't exactly practical. But we were surprised with how well it handled the great outdoors (and indoors, for that matter). One aspect it has going for it is obviously the size of the screen; unlike holding up a camera phone and wondering if you've got everything in frame, the Tab S is like holding up a photo frame that the world just fits into.
Holding it with two hands and taking pictures can be quite tricky however, particularly if you want to utilize its many onboard features of filters and effects. That said, we were pleasantly surprised by the results its main 8.0 MP lens, and its full HD video (@ 30fps), delivered.
Although the device itself was let down by the streaming apps we ran on it, it proved itself with the various videos we threw at it. Not only did they look impressive on the screen, we didn't have to clog up the on-board memory (16GB), as you can plug in an OTG (On The Go) adaptor and connect a memory stick to it to read all manner of video and audio files. We mention the audio files as the stereo speakers pack a surprising punch. And if you didn't want to connect an OTG, you could simply slot in a Micro SD card (up to 128GB) to handle any future storage needs.
Also on the video front, we connected it to our Sony TV using screen mirroring. This allowed us to stream video content from the device onto our big screen TV with no effort whatsoever. Even though its screen is a thing of beauty, it was great to throw our pictures and video onto an even bigger screen.
Clearly its Achilles heel was going to be its battery life. We were wrong. Up to 9 straight hours on the internet, and up to 12 if playing video back. Not too shabby at all.
And to be honest, this was only scratching the surface of what this tablet has to offer.
The only negative we could find is the notorious Samsung bloatware. A lot of apps that you may never use are already pre-loaded onto the device, and can be a real bugger to remove. If you don't need or want them, too bad, you just have to put up with them sitting in the dark corners of your device taking up valuable room.
To be fair to Samsung, it's a common enough practice these days across the board on all tablets, sadly, to have them preinstalled with bloatware, so it's something we just have to get used to.
The Galaxy Tab S truly is a thing of wonder. As far as Android tablets are concerned it has to be considered the Rolls Royce of the tablet world. Sure, you can pick up a cheaper tablet that can pretty much do the same thing. But once you've had it in your hands for a while, you soon realise that not all tablets are created equal and that the Tab S offers an unparalleled experience.