We Are The Freaks DVD competition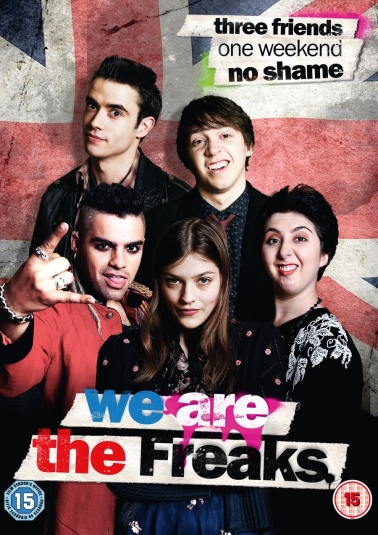 *** THIS COMPETITION HAS NOW CLOSED ***
To celebrate the release of coming-of-age comedy We Are the Freaks, starring Jamie Blackley, Michael Smiley, Mike Bailey and Amber Anderson, we've got 3 copies on DVD to be won, courtesy of Metrodome Distribution. Closing date: 22nd May 2014.
We Are The Freaks is out on DVD from Monday 5th May 2014.
About We Are The Freaks:
Metrodome Distribution is proud to announce the DVD release of Justin Edgar's coming-of-age comedy We Are the Freaks on 5th May 2014.
We Are the Freaks is a surreal and anarchic anti-teen movie about three misfits on a disastrous night out. It is set against the social and political turmoil of 1990's Thatcher's England, over the course of one evening they come to terms with being outsiders and learn to love failure and embrace being a freak.
Jack (Jamie Blackley – Snow White and the Huntsman) wants to escape his boring bank job and aspires to be a writer but is waiting to hear news about the grant he needs in order to take up his place at University. Parsons (Mike Bailey - Skins) is a wimp with a dangerously unhealthy sexual fixation on Margaret Thatcher. He finds life guidance from the deranged but principled hardman Killer Colin (Michael Smiley – Kill List). Unlike Jack, posh kid Chunks (Sean Teale – Mr.Selfridge) has never had to worry about money and as a result holds everyone and everything in high disregard. Despite his cynicism, he may just learn something from the sociopathic Splodger (Adam Gillen – Benidorm) as fate forces them together.
For your chance to win, correctly answer the following question:
Last year Jamie Blackley starred in biographical drama starring Benedict Cumberbatch. What was it called?
Best of luck.
Terms & Conditions
1. This competition is only open to UK residents aged 15 or older, excluding BOOM's friends and family and anyone else directly associated with this promotion.
2. The first three names drawn will receive a copy of We Are The Freaks on DVD.
3. One entry per person - and yes, we will check. If we find that you have entered multiple times, we will disqualify you from this competition. Repeat offenders will be disqualified from entering future competitions. And we don't like robots, so we investigate multiple entries and entries suspected as being from robots will be deleted.
4. Closing date for entries is midnight on 22nd May 2014.
5. Winners will be notified within 7 days by email. If a winner does not respond with their posting details 7 days after we sent them the initial notification email, their prize will be offered to another person following a subsequent further draw. This process will repeat until somebody responds and tells us where to send the prize. If you're entering, please do remember to check your emails!